Another year has come and gone, and now (as a would-be critic) is the time when I must compile a list of the top ten films of 2010!  The only problem is that as an amateur and as a resident of Eau Claire, I don't have access to a lot of films that have been released.  As a matter of fact, when I started writing this post, I still hadn't seen The King's Speech, but I figured it would rank, so I waited (spoiler alert: I was right).  So, with that in mind, I present you with my Top Ten Films of 2010.
10. The Kids Are All Right
Lisa Cholodenko's wonderful tale of a lesbian couple, their children, and their sperm donor somehow manages to simultaneously get tangled up in that peculiar family dynamic and completely eschew it and realize that this is just a normal family.  Helping that cause are terrific performances from all involved, from Annette Bening as the typical working parent who likes to find solace in a glass of wine, to Julianne Moore as the neglected stay-at-home mom going through an identity crisis, to Mark Ruffalo, who's initial laidback charm gradually reveals a complete lack of direction.  It's equal parts funny, heart-breaking, and moving, and it proves that family bonds are hard to break, even if your family doesn't look like everyone else's.
9. The King's Speech         
A fascinating (and surprisingly entertaining) depiction of King George VI's quest to overcome a speech impediment in order to give the people of England the strong leader they needed in a time of war.  Played with astonishing vulnerability by Colin Firth, King George (or Bertie as his friends call him) comes across at first as a hopelessly tragic figure, thereby seeming all the more heroic once he finally faces his biggest challenger, himself, head-on.  With a stellar cast including Geoffrey Rush as the unorthodox speech therapist, Helena Bonham Carter as Bertie's loving wife, Guy Pearce as his philandering older brother, and a devastating Michael Gambon as King George V, The King's Speech is a film of adversity, friendship, bravery, and how ultimately, life's biggest challenges lie within ourselves.
8. True Grit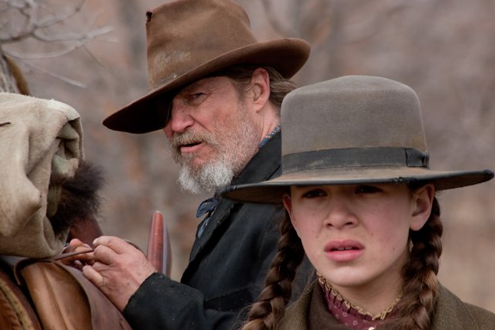 The John Wayne version of True Grit stands as a classic of the Western genre, and the film to net the Duke his only Academy Award.  So with a pedigree of this magnitude, what were the Brothers Coen possibly thinking when they set out to remake this.  Well, by adhering close to the original novel, and assembling one of the best ensembles of the year, including a stellar debut from Hailee Steinfeld, it's easy to forgive Joel and Ethan.  And really, with the story's ample opportunities for gorgeous cinematography, unique characterization, and colorful dialogue, the question isn't why did the Coen Bros. do this, it's why didn't they do it sooner?
7. Exit Through The Gift Shop
Is it a probing documentary about street art and the corrupting power of fame?  Or is it, itself, an elaborate piece of performance art being perpetrated by street artist and filmmaker, Banksy?  The film offers no answers to that question (nor, do I think, will Banksy), but it really doesn't matter.  Because Exit Through The Gift Shop was not only the most entertaining documentary of the year, hands down, it was one of the most entertaining movies, period.  With it's engaging interviews, astonishing footage, and a rare look into a world few people have ever seen, the film is compelling in ways that few films ever manage.
6. The Social Network
A typically motor-mouthed screenplay from Aaron Sorkin, beautifully restrained direction from David Fincher, and a mesmerizing lead performance from Jesse Eisenberg all combine to make this depiction of the early days of Facebook one of the greatest films of the year.  That is to say nothing of the tremendous performances from Andrew Garfield, Armie Hammer, and especially Justin Timberlake.  It's a unique take on a unique story that wound up being way more entertaining than common sense would dictate.
5. Inception                                                     
With Inception, Christopher Nolan assembles all the spectacle of his Batman films and all the labyrinthine intricacies of Memento and The Prestige and combines them into one of the most jaw-dropping films to hit theatres this year (or any year, to be slightly hyperbolic).  Allowing myself to wallow briefly in cliche, this is a game-changer.  Much in the way Jaws, Terminator 2, and The Matrix re-shaped our notion of what a summer blockbuster could be, so too will Inception change the face of cinema.
4. Scott Pilgrim vs. The World
Edgar Wright's wizz-bang take on Bryan Lee O'Malley's graphic novels wound up being less an adaptation of a comic book, and more an adaptation of 90′s nerd culture.  With obvious influences in video games and comics, gorgeous special effects that enhance rather than dominate the film, and one of the best supporting casts ever, Scott Pilgrim took the notion of an alternative love story, and presented it as the most unique movie-watching experience of the year.
3. Winter's Bone              
As a 17-year-old left in charge of caring for her two younger siblings and frantically searching for her out-on-bond father, Jennifer Lawrence gives a commanding performance.  She walks the tightrope required to convey the endless bravery and outright fear of dealing with her meth-producing neighbors whose sense of self-preservation and disdain for law and order far outweigh any sense of family or community they might hold.  This southern noir combines dark humor, wonderfully realized characters, and some disturbing visuals and creates a stunning atmosphere that digs in deep and doesn't let go.
2. Toy Story 3        
Pixar continues their winning streak with this conclusion to the film that started it all.  Few franchises manage to get better with each installment, but Toy Story 3 is that rare exception.  The toys we know and love are back, and they're dealing with the prospect that Andy probably won't have much use for them anymore now that he's off to college.  This sets off a story that is exciting, hysterical, astonishing, terrifying, heart-wrenching, and life-affirming.  I say this after every Pixar film, but this time I really do think it will be hard to top what they've accomplished, and what they've accomplished is turning out the most emotionally affecting film of the year.
1. Black Swan                                              
Darren Aronofsky's dazzling, dark, and twisted voyage through the mind was not only one of the most surprising and disturbing films of the year, it was the best film of the year.  It's a visceral film that shocks and confounds, but it also contains moments of undeniable beauty.  It's a tale of a ballerina (Natalie Portman) slowly losing her grip on her sanity as she struggles to find the darkness required to properly portray the Black Swan.  Complicating matters is rival dancer Mila Kunis, who Aronofsky films with a lilting grace to counteract the abject terror he brings when filming Portman.  Filling out the world are Vincent Cassel as the dangerously erotic (seriously, that's the only way to describe him) ballet director and Barbara Hershey as Portman's deranged, overbearing mother.
But, by far the brightest spot of this film is Portman, herself.  She's alternately wildly unhinged and terrifyingly controlled.  She descends so deep into herself that she becomes almost unrecognizable.  The person she was at the beginning of the film and the person she was by the end bear only a passing similarity to one another, and Portman expertly conveys the difficulties of that transformation.  It's a tremendous performance in a film that demanded no less.  A film that aims for beauty, terror, excitement, and danger.  A film that achieves all of that, and transcends it to become an absolute masterpiece.
Honorable Mentions
Combining well-executed action and some top-notch performances, The Town proved itself one of the most entertaining thrillers of the year.  Noah Baumbach's latest offering, Greenberg, invokes the same tense discomfort of Baumbach's The Squid and The Whale, but filters it through an unflinching Ben Stiller performance, making for an awkward, yet endearing film.  Offering a disturbing look at what the war in Afghanistan is like for the people there, Restrepo's unflinching look at combat is terrifyingly mesmerizing or mesmerizingly terrifying, I haven't figured out which.  A truly stellar performance from James Franco manages to save 127 Hours from the overly wandering hands of Danny Boyle, to tell the harrowing true story of Aron Ralston, the hiker who wound up pinned under a boulder and had to resort to the unthinkable.  A magnetic turn by Emma Stone and some terrific support from Stanley Tucci and Patricia Clarkson went a long way towards preventing Easy A from becoming the terrible, terrible movie it so seems like it should have been.
Most Underrated
"Overkill is underrated."  And so was the film that spawned that bit of dialogue.  Several people seem to have gone into The A-Team expecting… well, quite frankly, I have absolutely no idea what they were expecting, because what I was expecting was a big, dumb action movie that never took itself seriously.  A movie that wasn't afraid to shy away from over-the-top spectacle because if ever there were a movie where that was allowed, this is it.  Overkill is underrated. Indeed.
Most Overrated
With it's brutal violence (mostly involving children) and the fact that it has no idea what kind of film it's supposed to be, Kick Ass bounced back and forth between misplaced humor and horrifying depictions of death and physical abuse.  There are times where it seems like an action comedy, but thinks it's a gritty crime drama, and there are times when it's a gritty crime drama, but presents itself as an action comedy.  This schizophrenic style amounted to one of the most frustrating cinema-going experiences of the year.  Plus, it's just not that entertaining as a movie.
Biggest Surprise
Dreamworks' animated films have typically consisted of little more than pop culture gags and gross-out humor, so when How To Train Your Dragon displayed genuine humanity and a hefty dose of heart to go along with it's breath-taking visuals and breakneck pace, it proved that perhaps the studio doesn't want to play second fiddle to Pixar anymore.  They've still got a long ways to go before they unseat the reigning champs, but more output like this, and the future of animation is looking brighter all the time.
Full Disclosure
I am pretty satisfied with this list, however in the interest of fairness I present you with a brief list of potential list candidates that I have not yet seen, for one reason or another: The Fighter, The Illusionist, Dogtooth, Blue Valentine, Rabbit Hole,  I Love You Phillip Morris, Never Let Me Go.
Posted under Kyle's Adventures in Pop Culture
This post was written by Kyle on January 17, 2011