Filmmaking is a tricky business.  There are roughly a thousand plates spinning at any given point, and it's completely up to a small number of people to pull it all together into a coherent whole.  Sometimes they succeed and create great works of art, and other times they fail outright.  But what about the rest?  There are plenty of perfectly decent films that just don't have what it takes to be considered among the all-time greats, there are mediocre films that aren't worth expending any energy towards whatsoever, and then there's this curious little slice of filmdom: films containing elements of genuine greatness that somehow can't save the terrible movies in which they exist.  Such as…
Sliding Doors
The Film: Sliding Doors tells the story of Helen (Gwyneth Paltrow) in two separate timelines, one in which she catches her boyfriend cheating on her, and one where she doesn't, and the fallout from both.  It's a movie that tries to break from the mold of your typical rom-com and try to examine the role small choices play in our lives.
The Greatness: That premise is undeniably brilliant.  The movie juggles the separate timelines well, finding organic ways to alter Gwyneth's appearance so that the audience doesn't spend the first few seconds of every scene trying to figure out what story we're in, allowing them instead to focus on the unique story that's unfolding; and the film resolves in a pleasant enough way that demonstrates the curious path destiny will take us all on.
Why I Hate It: The movie has no faith in its brilliant premise, or rather, it has no faith in its audience.  So rather than tell an emotionally complicated story about people with multiple layers, each character is painted in the broadest strokes imaginable.  So Karen is saintly to the point that actual saints would feel nervous about offending her, her boyfriend is a spineless, sniveling weasel, and the woman he's sleeping with is the most hateful shrew this side of Baby Jane.  The one attempt the film makes at an emotional complication comes when Karen's new love interest (John Hannah, playing an impossibly decent fellow, go figure) is implied to have been lying about his past, but the movie resolves this plotline as fast as it possibly can.  The result of all this is one of the most obnoxiously blunt movies you are ever likely to see, clever premise be damned.
The Haunting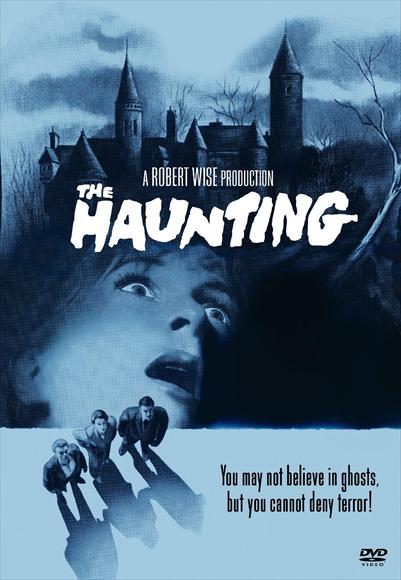 The Film: One of the original haunted house stories told on celluloid, The Haunting stars Julie Harris as one of a handful of people contacted to research Hill House, a mansion with a mysterious, violience-ridden past.  The characters all display some skepticism at first, but gradually it is revealed that the strange occurences are anything but coincidence.
The Greatness: Look, I know I'm in the minority on this one.  The Haunting is considered a classic horror film, and not without reason.  There are several sequences that are legitimately terrifying, thanks largely to the marvelous sound design.  The film never reveals more than it has to, only letting us see what we absolutely need to, and it is with this that The Haunting creates a truly unsettling air…
Why I Hate It: … that is completely undone by the constant voice over from the protagonist.  The film lets us hear what's going on inside Julie Harris' mind as she slips further and further away from sanity, but by doing this, we are never allowed to process the terror being projected onscreen for ourselves.  The film is able to create lots of tension, but as soon as her ethereal voice over crops up, it all deflates, and delivers a death blow to this supposedly classic film.
The New World
The Film: Terrence Malick's telling of the Pocahontas story follows Colin Farrel's John Smith into the forests of Virginia on his quest to ingratiate himself with the Native Americans, and the settlers who fear them.  The film brings realism to a story we've all heard since childhood, and tries to get at what life was truly like for everyone in the early days of America.
The Greatness: Given that this is by the man who directed Days of Heaven and last year's haunting The Tree of Life, you know it's really saying something that The New World is Malick's most absolutely gorgeous films.  The cinematography lends a majesty and grace to every piece of scenery Malick found himself in the mood to film on any particular day, leading to a final product that is breathtaking to behold.
Why I Hate It: Okay, this is kind of a cheat, because I don't actually hate this film, but it is by far Malick's most tedious and (unintentionally) incomprehensible films.  The dialogue mostly consists of offscreen whispers, making it near impossible to follow; Malick's typically jumpy editing is in full force here, which should make the film more spastic, yet somehow slows it down even further; and the whole thing runs about a half-hour too long, and I'm not even referring to the Director's Cut.
Shane
The Film: This Western tells the story of the eponymous gunslinger, played by Alan Ladd, who wants to leave his past behind him and make a life with a family of ranchers.  But as more and more seedy characters make their way into town, Shane finds himself forced with the decision of whether to do anything about it.  Accompanying him through most of this is the child of the ranchers, played by Brandon De Wilde.
The Greatness: Shane possesses something few other Westerns possess, and that is a sense of morality.  Sure, other films like High Noon or Rio Bravo will show people reluctant to fight, but that's out of a sense of their own preservation.  Here, Shane is reluctant to get involved because he genuinely doesn't want to be responsible for taking another human's life, it's an admirable trait that lends a thoughtfulness not often found within the genre.
Why I Hate It: Brandon freaking De Wilde.  I was able to tolerate the kid in Extremely Loud & Incredibly Close because I knew in the back of my head that no matter how obnoxious he was, he doesn't even touch Brandon De Wilde.  Towards the end when Shane (59-year-old spoiler alert) decides to intervene, Joey (De Wilde) sneaks out and follows him, and I genuinely hoped he would get caught in the crossfire, because A) it would fit in nicely with the morality I talked about earlier, and 2) I wanted his character to die.  Instead the film ends with a shot of his stupid face yelling for Shane to come back, and I was left with a desire to punch a child in the face, which is not something I'm comfortable with.
The Lovely Bones
The Film: An adaptation of the book by the same name, this is the story of Susie Salmon, a 14-year-old girl who is murdered and who witnesses the investigation and her family's reaction from Heaven.  Her father and sister are relentless in finding her killer, who, unbeknownst to them, has been right under their noses the entire time.  Her mother, meanwhile, is devastated and can no longer handle her domestic life and leaves for California.
The Greatness: As George Harvey, creepy neighbor and serial killer, Stanley Tucci is phenomenal.  He nails the quiet menace and is absolutely chilling when talking to people who don't know that he's the one they're looking for.  His performance is the kind that you rarely see, crafting a character you want to see get what's coming to him, yet one to whom you don't particularly want to say goodbye…
Why I Hate It: … because he's the only good part of the movie.  All the rest of the film is able to manage is average at best, atrocious at worst.  I won't harp too much on the rest of the performances, most of whom fall in the mediocre range (Mark Wahlberg is the exception, he seems to be giving a companion performance to his role in The Happening), so instead I'll focus on the biggest, most insulting issue with the movie: it is one of the absolute worst adaptations in the history of cinema.  It begs the question, did Peter Jackson actually read the book, or did he get a quick summary from one of his friends?  So many little things are changed in the story, every single one of them to the film's detriment.
For instance, the mother's journey to California, in the book she is gone for about ten years, making it a significant occurence in her family's life, in the movie she's gone for about a month, and as a result it doesn't pack any of the devastation it's supposed to.  In the book, they never definitively get George Harvey, they have circumstantial evidence and his questionable behavior.  In the movie, they absolutely nail him and he flees, losing all the ambiguity that makes the film so wonderfully frustrating.  In the book, Susie has a companion in Heaven named Holly, she is there because they are of similar ages with similar interests and they died roughly around the same time, period.  The book is content to let some things go, because it realizes that life and death are messy businesses and sometimes things just are the way they are.  But in the movie, it turns out that Holly got murdered by George Harvey, too, because Peter Jackson wasn't content to let any detail go that didn't have some significance on something else in the film.  I could go on, but I won't, because I'll just get angry.  Just know that the book is bursting with serene beauty (seriously, read it, it's phenomenal), and the movie is able to nail precisely none of it.
Posted under Kyle's Adventures in Pop Culture
This post was written by Kyle on February 21, 2012